One of the stars of One Big Happy has got the appreciation of Scientists.
Kelly Ann Parsons, known as Kelly Brook, who's an English model, actress and TV presenter, goes against all the so-called beauty standards of the magazines and the world of models.
She is the most beautiful woman in the world… And this is not a personal view but it's scientific researches that claim that conclusion.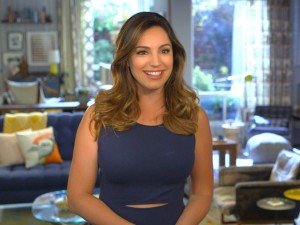 With a collagen-free pout and lovely chestnut hair that has no need of extensions, Kelly owns a natural beauty, without any use of silicone, and bucks all the WAG trend of boosting her body.
Kelly said: "I hate the WAG style everyone's obsessed with. It's all bad fake tan, blonde hair extensions and fake nails. They spend a fortune but look tacky."
How could she own the perfect body according to science?
This scientific analysis considers the body characteristics and measurements likely to attract men from all over the world regardless their cultures and origins. In this way, researchers defined many physical characteristics and proportions that make the woman naturally and sexually attractive. Thus, they discovered that the woman who approximately fits with their funny scientific findings was the charming Kelly Brook.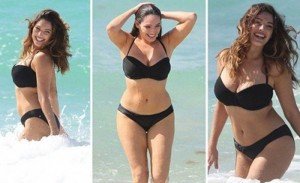 Her babyish face with big eyes and arched eyebrows attract, according to Dr Ben Jones of Aberdeen University's Face Laboratory, men from all cultures.
The boobs:
With her 34E bust, she doesn't need any silicone boost or plastic surgery.
The waist:
Researches at the University of Gdanks in Poland consider that women with waists a third smaller than their hips and three-quarters their bust measurement are "Super-beautiful". Kelly widely shapes up in this area.
The hips:
With an exact hip to waist ration of 0.7, she fits with the perfect woman's hip criterion announced by researchers at the University of Texas.
The hair:
With her thick chestnut curls and shiny locks, Kelly's hair makes her instantly more attractive to men.
The legs:
Having longer pins than the woman average makes her, according to experts at the University of Gdansk, more beautiful.
And Now, it's up to you to confirm or not the scientific results. Has she really the most perfect body in the world ?
This type of beauty seems much more natural, more real and attainable, and for good reason: Kelly never wanted to touch her body and she has always refused to do … And when we see it, we say that she is right!
According to her : "Women in the 1950s were so much sexier. That's what I aspire to look like. I always think my mum gave me this face, this body and I'm grateful. I don't want to start messing around with what she gave me."