After 250,000 fans attend her concert in the World Music Mawazine Festival in Morocco, Christina Aguilera (#XTina) broke the record. The diva delivered a memorable sold-out show in the Moroccan capital, Rabat.
Mawazine is an international festival help every year in Morocco and bringing the most famous singersin all kinds of music. This year  Christina Aguilera was in charge of the official closing of this worldwide musical event and she did kill it on the stage through an amazing performance and a huge love expressed by her Moroccan fans keen to see her again in Morocco.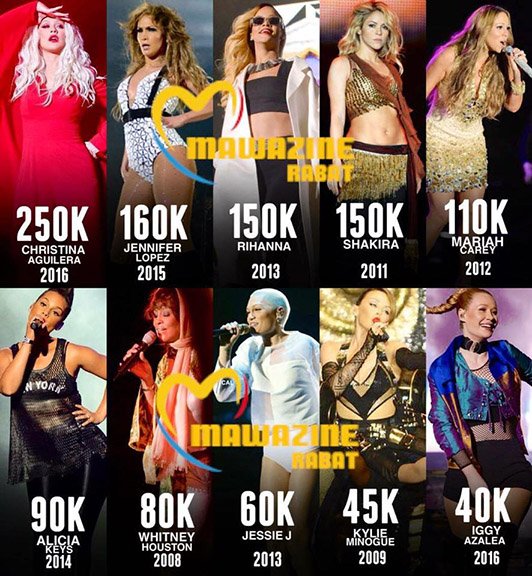 Christina Aguilera gave a very rich performance
Christina Aguilera opted for a colorful and intoxicating choreographic show in which she performed to the delight of the public:  Bionic, Dirrty, Feel This Moment (Pitbull) Moves Like Jagger (Maroon 5), Genie in a Bottle, Ain't No Other Man, Candyman, Lady Marmalade, Come on Over Baby (All I Want Is You), Say Something, Whole Lotta Love(Led Zeppelin cover), Let There Be Love, Beautiful  et  Fighter.
Christina Aguilera mixes Fashion and Talent
In this amazing performance Christina repeatedly changed her costumes and created diverse universes.


Before finishing her show by performing her tube "Fighter", Christina Aguilera paid a tribute to the late Prince by singing "Purple Rain".
Concert hightlights
Some Moroccan local medias have released a summary of this beautiful show that bringed more than 250,000 Moroccans fans of music and the quenn Christina:
Christina Aguilera discovered a part of Morocco's culture
Before the concert, Christina enjoyed her stay in Morocco as it's her first visit to this beautiful country. She sang the "Andaloussi", a Moroccan kind of music and tried a local dress appointed "Caftan".
It is obvious that Christina appreciated her visit to Morocco and what is important is that after her show, her Moroccan fans are asking to see her again in other concerts in Morocco.
Yes, this concert in one of the biggest Music Festivals in the World was a huge success and an effective proof of XTina's comeback especially after her "True Victory for Women" winning "The Voice".