Since she was photographed with her friend in the grandstands of the Velodrome Stadium during the Euro2016's match between France and Albania, the very attractive Albanian supporter Rike Roci created excitement and curiosity among the international football supporters.
If few players stole the show at the France-Albania Wednesday at Marseille, it wasn't the case of the spectators present in the stands of the Stade-Velodrome. Among Albanians, a fan gathered all the flashes of photographers.
Rike Roci is not a lambda supporter. Pictures of the young woman with the plastic and unquestionable dreamful charm circulated widely on social networks. The young Albanian, accompanied by her friend, Irdi Oxa, made up the Velodrome during the France-Albania.
"It was a great surprise for us. The entire platform began to cheer us during the game." said Rike Roci to Bild.
Are we supposed to believe that she was really surprised? We could notice that she did everything to get noticed by photographers following the recipe that has been tested by the Paraguayan Larissa Riquelme during the Football World Cup 2010.
Who is Rike Roci?
The hot Euro supporter lives in Italy and regularly visits the stands of San Siro if one believes her Instagram account.
The young Albanian, accompanied by her friend, Irdi Oxa, is not totally unknown. At least in her country. She participated in the Albanian version of the reality show "Big Brother".
Very active on social networks, she puts its strengths in very 'natural' photos and is therefore very naturally followed.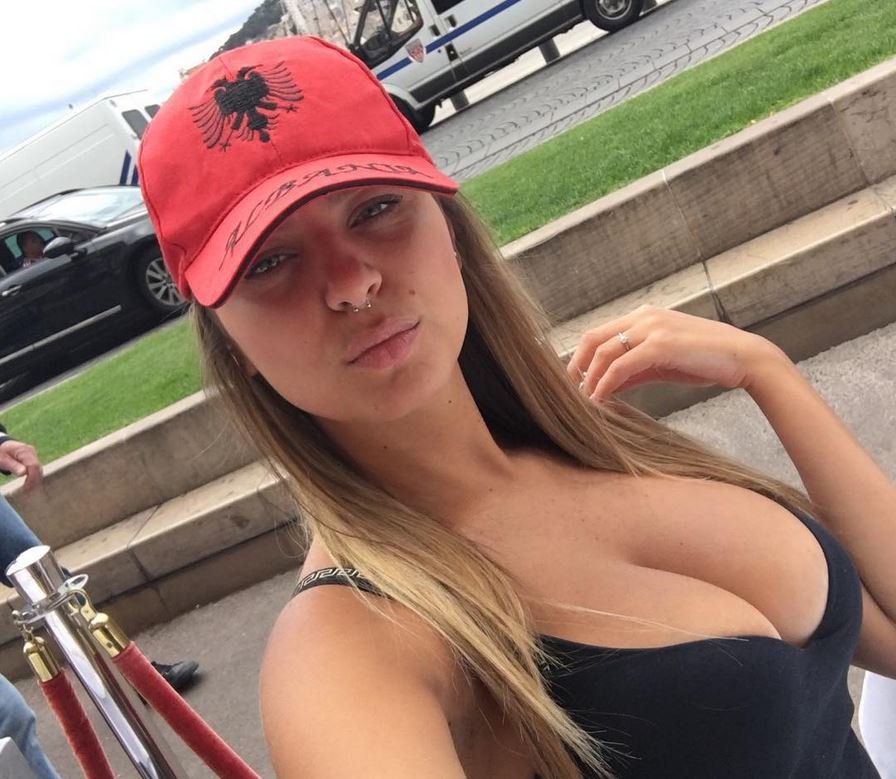 Is she in a relationship?
What to say more about her other than living in Milan? She would work in modeling and according to some rumors she's very close to an Albanian player.
Guess what? This is a too bad news for the spectators of the Velodrome who tried his chance. "A French supporter asked to marry me. But I said no, "Rike Roci said. We have a good news for him, her friend, Irdi, is still single. 😉
Euro 2016 supporters wish Albania to be qualified so as to see Rike Roci again
J'attends le featuring entre Rick Ross @rickyrozay et Rike Roci @RikeRoci https://t.co/1nb3gfgchr #ALB pic.twitter.com/Cd4kjSBA5N

— Sélim Niederhoffer (@selim) June 20, 2016

A fan tweeted: "Rike Roci deserves that Albania wins the Euro."
Rike Roci elle mérite que l'Albanie gagne l'Euro.

— Raph' de la Tourette (@homosef) June 19, 2016

A fan tweeted: "Alania disqualifies Romania. The most important thing is that we could have the chance to see Rike Roci again 😍"
L'Albanie qui sort la Roumanie, le plus important c'est qu'on risque de revoir Rike Roci 😍 #EURO2016 #ALBROU pic.twitter.com/jwHp2nL5N2

— Shavinz// (@ShavinzCS) June 19, 2016
Check this out guys!!!
In few days, we'll post a range of pictures of the sexiest supporters in the Euro2016. So, follow our posts in this website as well as our Facebook page www.facebook.com/peoplendsociety to be the first to see the pictures.